Can Feather Flags Be Custom Designed?
Posted by Feather Flags - FREE Design Service Support Team on 11th Dec 2022
Yes! Feather flags are a cost-effective way to advertise your business or event, and having them custom-designed is a great way to ensure that your message stands out. Custom feather flags allow you to choose from many shapes, sizes, colors, and materials to ensure your flag is unique and eye-catching. You can add logos, text, or artwork to your feather flags for extra personalization. In addition to customizing your feather flags, we also offer a wide range of ready-made designs in various sizes and colors. So no matter your advertising needs, you'll be sure to find the perfect flag here at our store. It is important to choose between Double-sided and Single-sided before starting to customize your feather banner.

At eyeBanner, we create custom-designed feather flags that can represent you, your company, or any other organization. Our high-quality flags are perfect for drawing attention to your event or business and come in a wide variety of styles and sizes. With our team of experienced designers and state-of-the-art printing technology, we offer FREE Design service and can help you create and manufacture the perfect flag to suit your needs. So don't hesitate - give us a call today and let us help you create the perfect custom-designed feather flag!
How to customize the feather flag design with desktop graphic software such as Adobe Illustrator or Photoshop
Customizing a feather flag design can be done with either Adobe Illustrator or Photoshop. Both are powerful and professional desktop graphic software programs that offer tools to create custom graphics. The choice depends on your experience level and the nature of the graphics type.
Adobe Illustrator
Adobe Illustrator is a vector-based program that allows for crisp lines, perfect scaling, and easy editing of shapes and graphics, making it the better option for creating designs mainly with Logo, Line art drawings, Cliparts, Text, and Typography.
Adobe Photoshop
On the other hand, Photoshop is a raster-based image editor that can quickly achieve photographic effects and more organic results but does not offer the same level of precision as Illustrator. Adobe Photoshop should be used if the design is mainly composed of Photos or Text with a lot of special filter effects like 3D Bevel or Shadow.
When creating a custom design for a feather flag, it is important to consider the flag's size and shape, as this will affect the resolution of any artwork used. Vector design elements such as logos and illustrations should be created at the maximum size they are intended to be printed to avoid any quality loss when scaling up.
What is the difference between Vector and Raster image?
Vector images are typically better for graphics with curved lines and sharp edges, such as logos or illustrations. Conversely, raster images are ideal for detailed pictures like photos or complex backgrounds. It all depends on the desired look and feel! Watch this video for a better understanding of Vector vs Raster.
A vector file (.ai .eps .pdf .svg) is a digital art or illustration composed of mathematical calculations and lines organized into shapes, points and paths. These illustrations can be scaled to any size without loss of quality or resolution, making them ideal for large-scale designs. Vector images are superior when it comes to large format banner flag printing. Though both vector and raster graphics can be used, vector visuals will always deliver a better print quality result due to their scalability.
Which one is better for designing a custom feather flag?
In conclusion, Illustrator has generally been considered the better choice for designing a custom feather flag since it allows for more precise vector-based graphics that are easily scalable and have a better chance of printing correctly. Photoshop is an excellent tool for photo optimization and image editing. Still, it does not offer the same precision as Illustrator when working on designs that need to remain in a scalable vector format which is critical for larger format banner flag printing.
How do you create a custom feather flag banner design with an online design tool?
Creating a custom feather flag banner design with eyeBanner's FREE online customization tools is easy:
Alternatively, you can also use the popular CANVA online design platform, and browse their library of flag templates to find one that best fits your personalization requirements. Once you've chosen a custom flag template, you can customize it by adding images and text, resizing elements, changing colors and fonts, and more. To add any element to your canvas, drag and drop the desired item from the menu or use the search function to find the perfect one for your project. Additionally, you can use the alignment and arrangement tools to correctly adjust the elements in your design. When you're done, save your design, and you will be able to print it on a variety of materials. With the help of these free tools, you can easily create professional-looking results without special design skills.
Buyer's Case & Story - Feather Flag for a Pizza Restaurant Grand Opening
The day finally arrived when my pizza restaurant was ready to be opened. I was excited and nervous about the advertising effectiveness of the double-sided feather flag that I had just got from the eyeBanner. I don't know much graphic design software, so I used their online design tool to customize my feather banner easily in a just few minutes.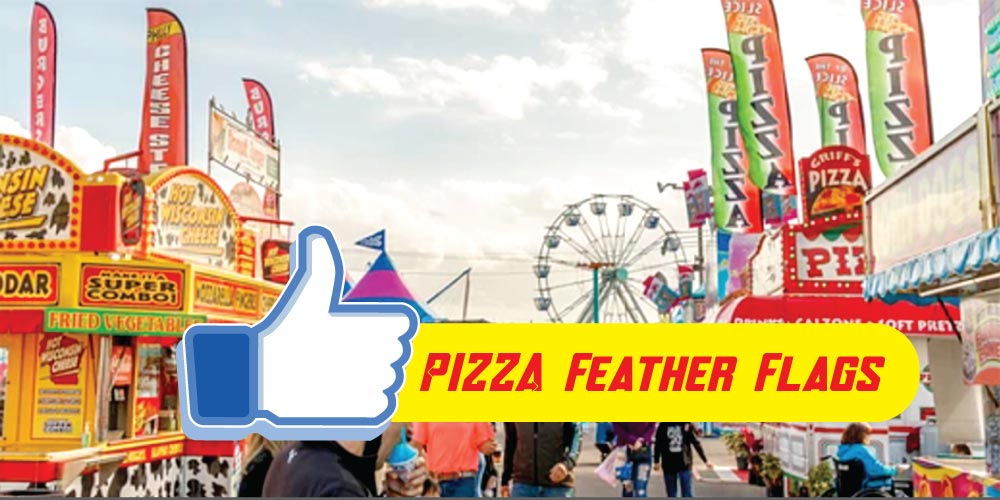 Now I had a cost-effective outdoor display banner sign to advertise my business directly outside of my restaurant. As soon as I set up the flag, people began to take notice and come into my restaurant. I couldn't believe how quickly it was working! Not only were people coming in to eat, but they were also taking pictures with the flag and sharing it on social media. I felt proud as more and more people discovered my Pizza restaurant.
It's been a few months since setting up the custom flag, and I'm thrilled to say that it's still making an impact on my business. Thanks to eyeBanner's cheap Feather Flag advertising sign, I have the perfect way to draw attention to my restaurant - at a one-time cheap cost of $69 only!